See what our guest say on handwritten and personal notes they leave on the tip envelopes.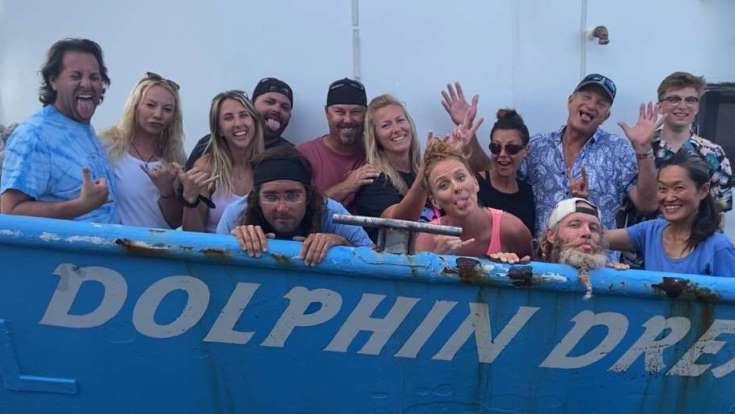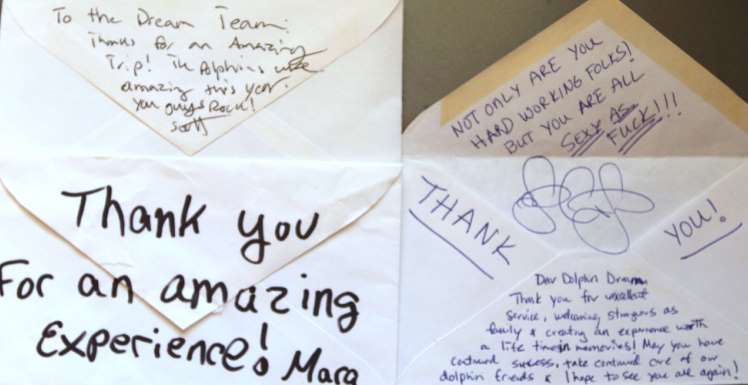 "Thank you for an amazing experience!"
Mara. August 2022
"To the Dream Team: Thanks for an amazing trips! The dolphins were amazing this year! You guys Rock!"
Scott. August 22
"Not only are you hard working folks! but you are sexy as fuck! Thank you."
Leslie, August 2022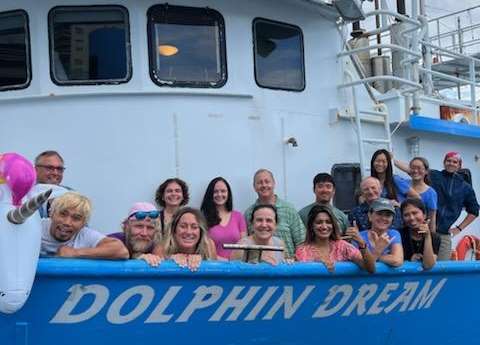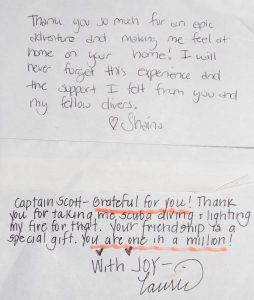 "Thank you so much for an epic adventure and making me feel at home on your home! I will never forget this experience and the support I felt from you and my fellow divers."
Shaina. July 22
"Captain Scott- Grateful for you! Thank you for taking me scuba diving and lighting my fire for that. Your friendship is a special gift. You are one in a million! With Joy!
Laurie July 22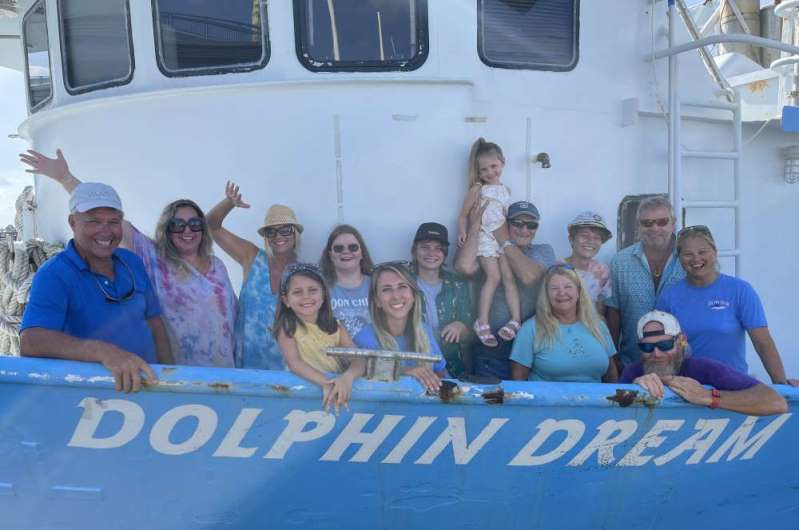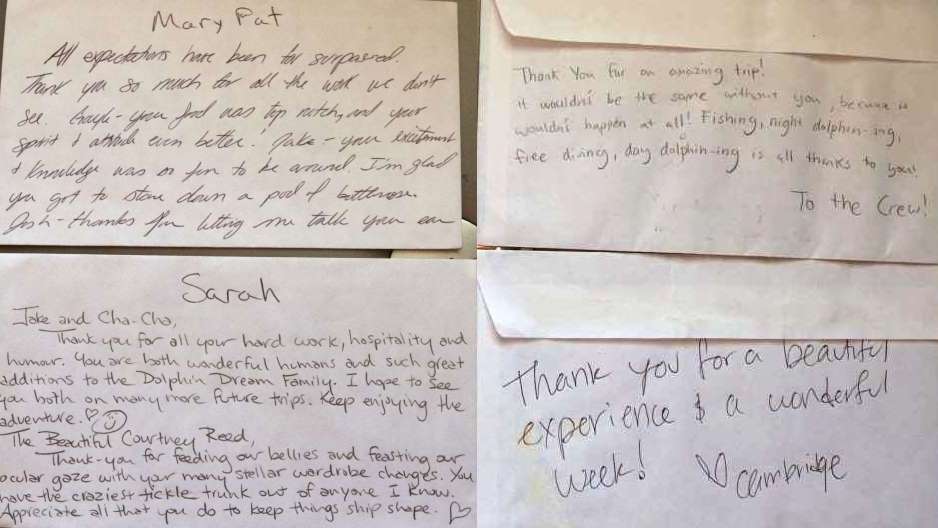 "Thank you for a beautiful experience and a wonderful week!"
Cambridge. July 22
"All expectations have been far surpassed. Thank you so much for all the work we don't see. Gale- your food was top notch, and your spirit and attitude even better. Jake- your excitement and knowledge was so fun to be around. Josh- thanks for letting me talk your ear off."
Mary Pat. July 22
"Jake and Cha-Cha. Thank you for all your hard work, hospitality and humor. You are both wonderful humans and such great additions to the Dolphin Dream Family. I hope to see you both on many more future trips. Keep enjoying the adventure!"
Sarah July 22
"Thank you for an amazing trip! It wouldn't be the same without you' because it wouldn't happen at all! Fishing, night dolphins, free diving, day dolphining is all thanks to you! To the Crew!"
Jeff. July 22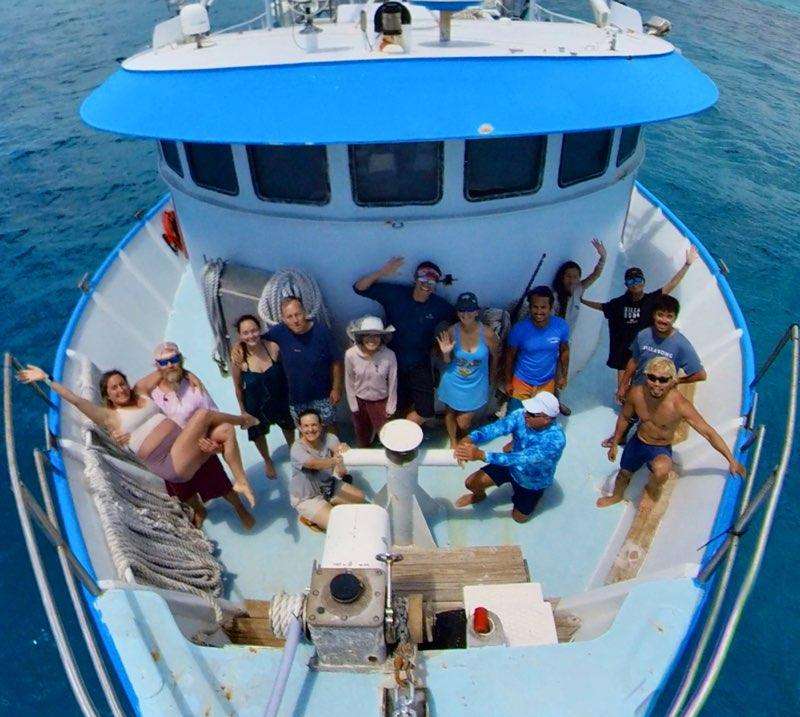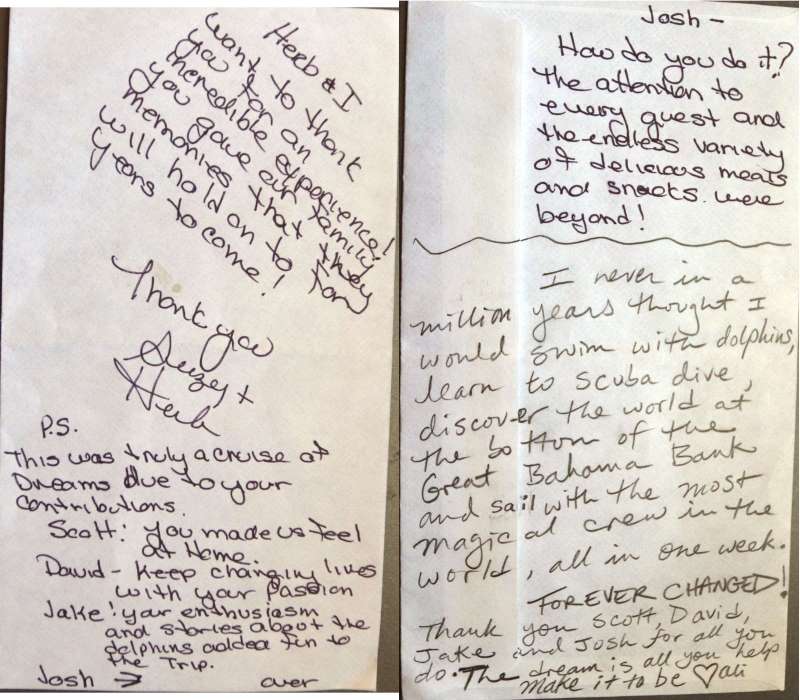 "Heeb and I want to thank you for an incredible experience! You gave our family memories that they will hold on to for years to come"
Thank you. June 22
"This was truly a cruise of Dreams due to your contributions. Scott: you made us feel at home. David: keep changing lives with your passion. Jake: your enthusiasm and stories about the dolphins added fun to the trip. Josh: How do you do it? The attention to every guest and the endless variety of delicious meals and snacks were beyond!"
Suzey June 22
"I never in a million years thought I would swim with dolphins, learn to scuba dive, discover the world at the bottom of the Great Bahama Bank and sail with the most magical crew in the world, all in one week. Forever Changed. Thank you Scott, David, Jake, and Josh for all you do. The dream is all you help make it be!"
Ali, June 22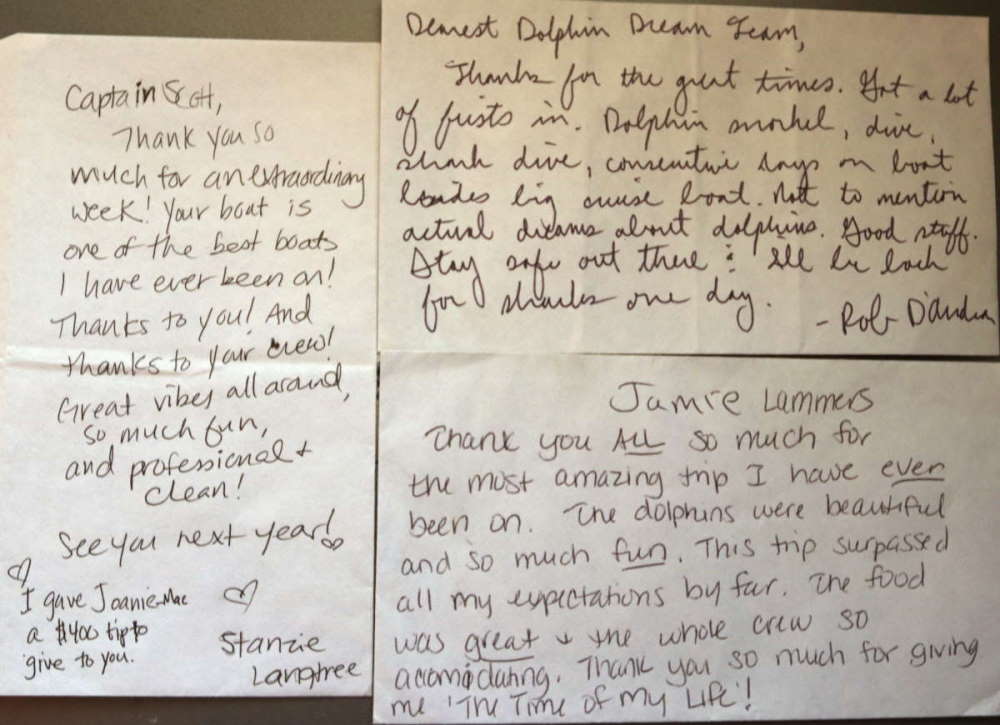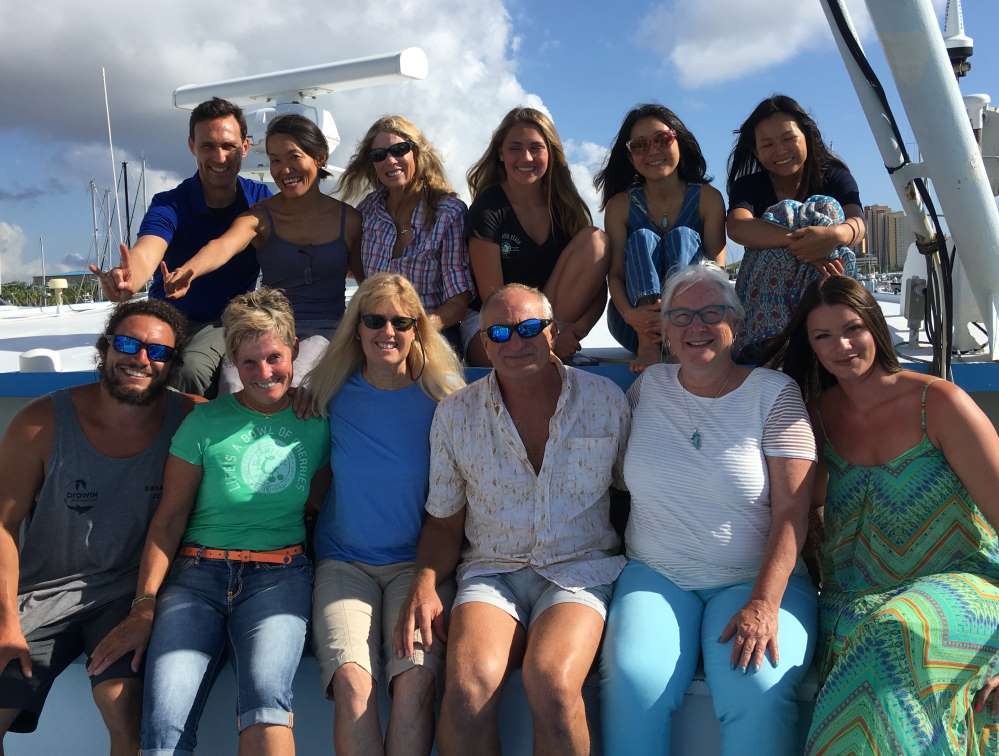 "Captain Scott. Thank you for an extraordinary week! Your boat as one of the best boats i have ever been on! Thanks to you! And thanks to your crew! Great vibes all around, so much fun, professional and clean!"
Stanzie Larptree, June 22
"Dearest Dolphin Dream Team.
Thanks for the great times. Got a lot of first in. Dolphin snorkle, dive, shark dive. not to actual dreams about dolphins. Good stuff. Stay safe out there."
Rob Daimion June 22
"Thank you all so much for the most amazing trip I have ever been on. The dolphins were beautiful and so much fun! This trip surpassed all my expectations by far, The food was great and the whole crew so accommodating. Thank you so much for giving me, The Time of My Life!"
Jamie Lammers June 22

"The Dolphin Dream Team
It was first time that I join the amazing tour. I am so happy to experience swimming with dolphins, talking with kind crew, eating delicious Japanese foods everyday and great amazing time. I will be back to the Dolphin Dream.
Thank you so much!! Kenji"  June 22
"Thank you so much for wonderfull 3 weeks. I love your love for the dolphins. You're the coolest! Looking forward to seeing you next time.
Thank you again, Love Yukari" June 22

"Thank you for making a magical week with the dolphins so extraordinarily amazing. Who needs Ruby Slippers when you can have Dolphin Dream's in your flippers. My favorite place to be, always.
With much gratitude, Sarah."
"Thank you for an amazing second trip. You guys are half the reason it's so great!"
Jess. July '21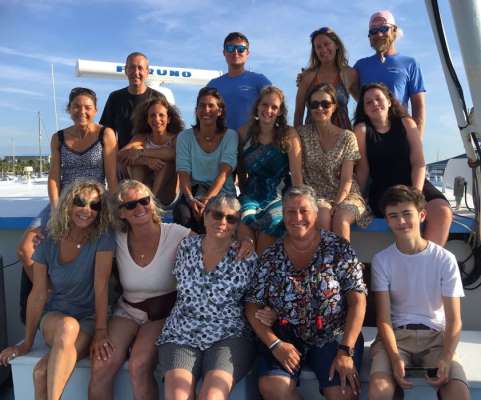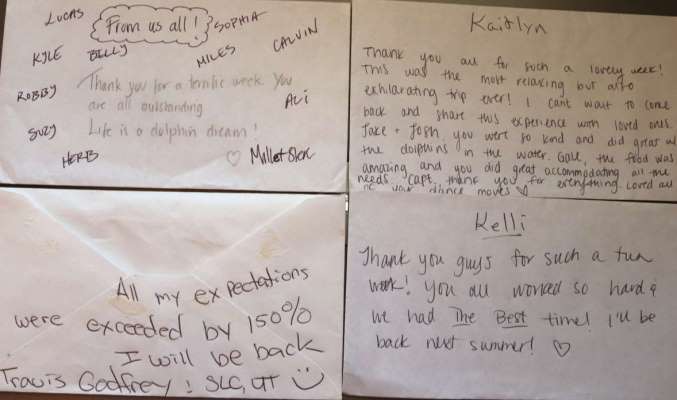 "Thank you for a terrific week. You are all outstanding! Life is a Dolphin Dream."
Millet. August 2019
"All my expectations were exceeded by 150%. I will be back."
Travis. August 2019
"Thank you guys for such a fun week! You all worked so hard and we had the Best time!"
Kelli. August 2019
"Thank you all for such a lovely week! This was the most relaxing but also exhilarating trip ever!"
Kaitlyn. August 2019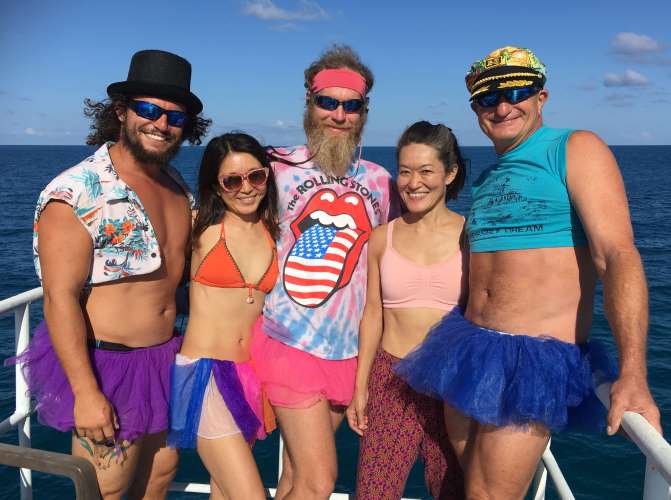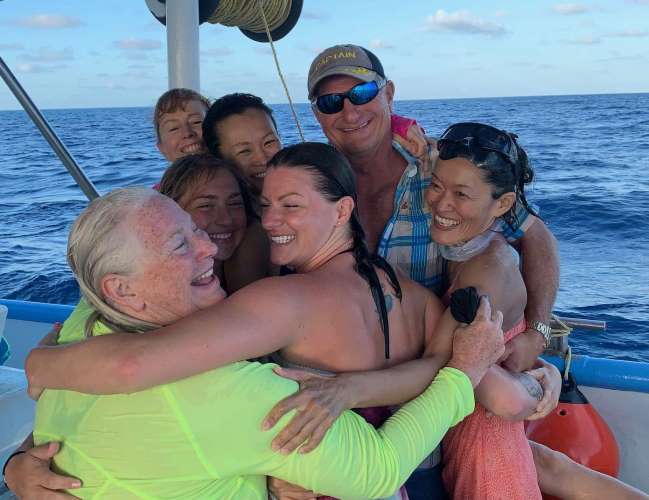 "Thank you for another amazing trip. Your team did an awesome job making this week incredibly memorable!"
Brenda. July 2019
"Thank you so much for an incredable week. This has been one of the most life changing and memorable experiences I have had!"
Donna. July 2019
"Thank you for an amazing week, to the best crew!! You'll made my trip perfect!"
John. July 2019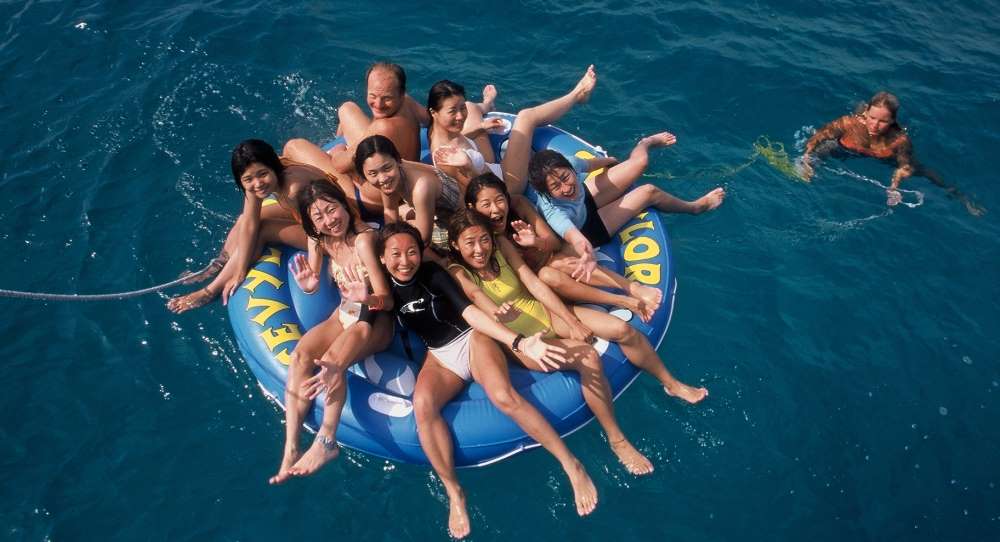 May 2018
"what to say... i have been fortunate enough to be on this boat as well as the old boat around 8 or 9 times !!!! i guess that says it all !!!! you guys are the best !!!! i will be back soon. lots of love !!!!"
deanna katz, los angeles, CA =)
"Phenomenal dolphin experiences and genuinely wonderful crew! Thanks for a spectacular week!!"
Grace Zorn-Toburen, Philadelphia, PA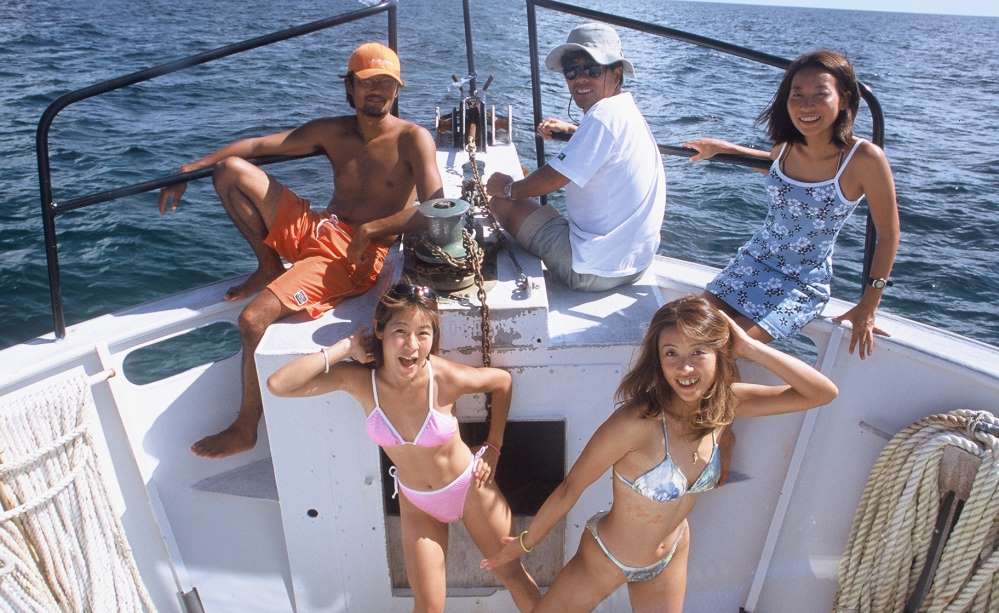 August 2015
"After hearing a friend share her experiences on the Dolphin Dream every year for the past 9 years, I surrendered to the promise of an incredible Summer vacation unmatched by anything I've ever done in the past. That promise was kept. I have done many fun and exciting things in my 67 years, from Whitewater rafting to skydiving; none have touched my soul in the way this experience has. Lifelong memories were created in one week of continuous awakenings of my heart and mind. I will only regret having waited 9 years to experience this adventure. I will certainly be returning for more "Dreaming"."
Manuel Orosco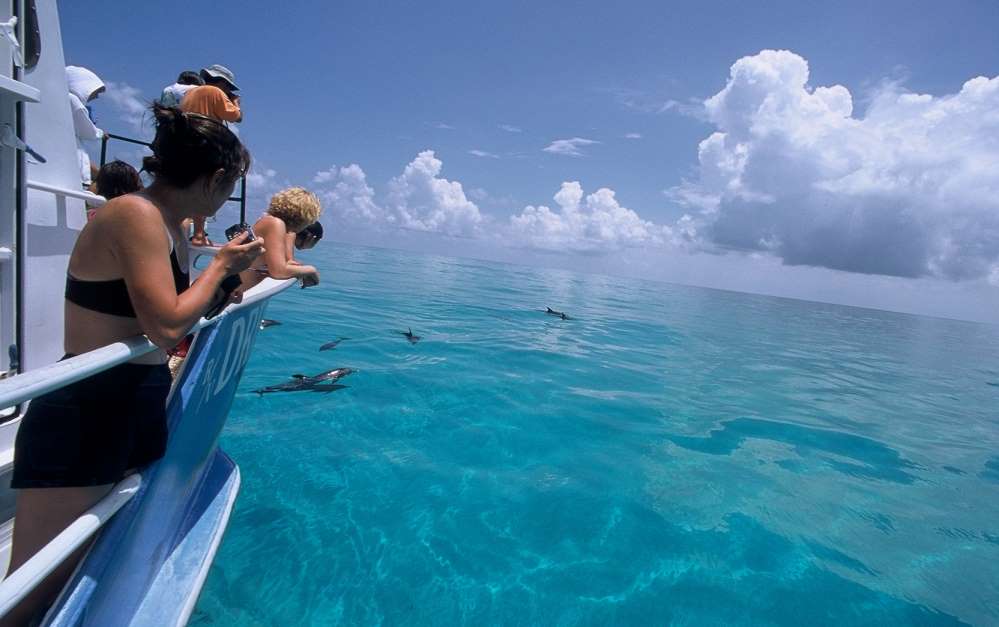 June 2010
"Dolphin adventures with Captain Scott and the "Dolphin Dream" have become an annual part of my life for the last 9 years--and this, my 10th year, has not dimmed with time or failed to meet my expectations. Wild dolphins circle me in the water with continuous eye contact and dolphin chatter. And on a truly magical day, a dolphin with that special connection may invite me to touch or even stroke him. Night snorkels capture intensity and excitement as the wild dolphins leap and dive and "zing" and "zang" to hunt for flying fish and squid. What a unique and wondrous experience! Something that I've shared with family and friends. If life gets me down, or I'm just having a difficult day, I can always recall these incredible moments to bring a smile to my face. Boat is safe and comfortable; crew experienced, friendly, and capable; and the food is great! Next summer will bring another "wild dolphin adventure"."
Gloria Naisbitt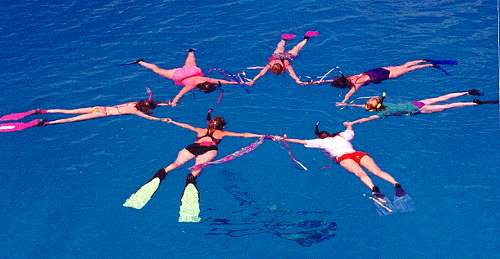 July 2007
"This is the best trip ever, ever, ever, ever, ever, ever x infinity!!"
Misuzu Toyama, San Francisco, CA
"Outstanding!!!!!!!!!!!!!!!!! A photographers dream!!!!!!!!!!!!!!!"
www.gabrielbeyrent.com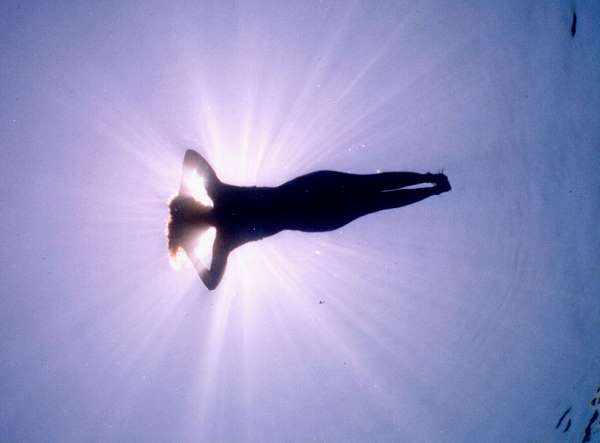 April 2003
"Dear Scott, Travis, Conner and Lib,
the first time I stayed in America and Grand Bahamas.
Thank you very much for alls - this trip was very great and made me very happy. And the dolphins were sooooooo bautiful like a dream .....
on the day and in the night. The first time in my live been the situation to touched a dolphin and it came again and want that I touched him once more.
I want to come back here again."
Sabine Schoenwald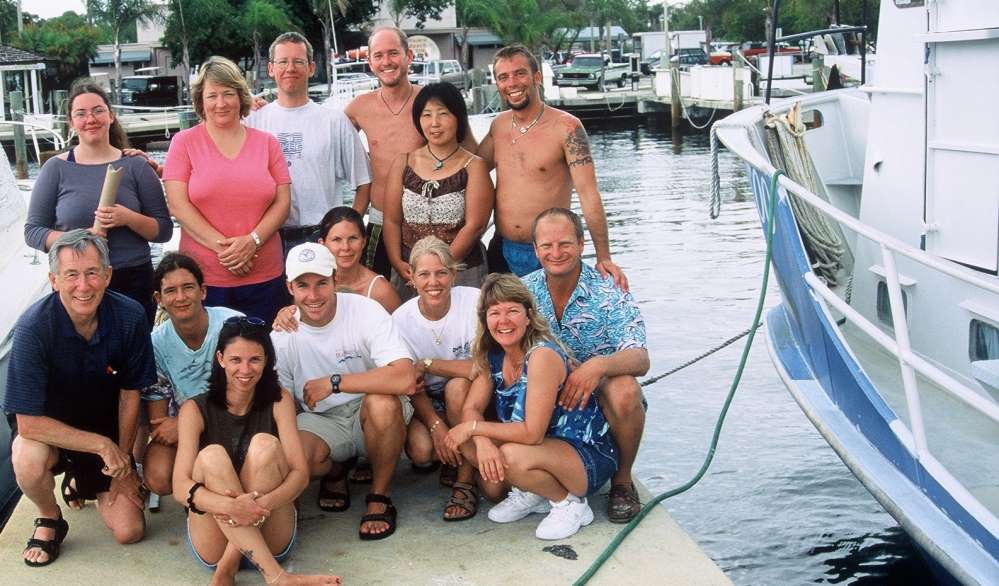 August 1999
"My wife and I just got back from the Dream Team experience, after reading the web site I had some expectations about what I would see. We both have encountered dolphins in a enclosed tank, and were trained to perform for the public. But the dolphin dream team out of west palm beach Florida was so well organized and exceeded all our expectations . We had encounters with dolphins every day. Multiple encounters with 3 to 18 dolphins . They also included the night dive which was a real treat. Bright lights brought up squid and flying fish which attracted the dolphins. For me personally the climax was when a dolphin swam around me in circles and let me touch him multiple times. This was a life changing experience for me , there is a connection between man and dolphin that is somehow innate in both our species."
John Tanner RPh. and Marty Lewis RPh.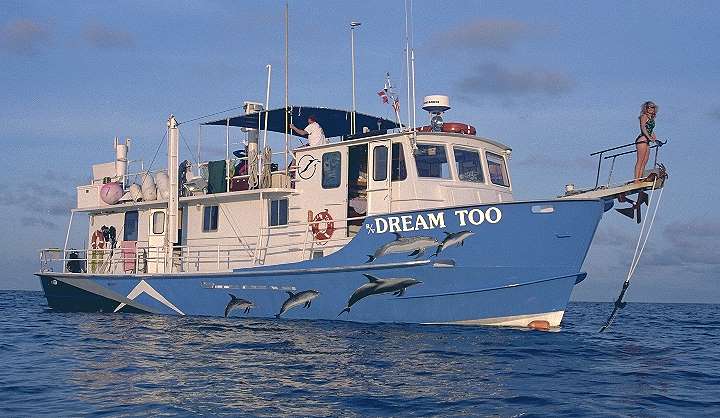 May 1995
"Words are not really adequate in describing what happens on this trip. Scott Smith and crew are outstanding in finding the dolphins, helping you in and out of the water, free diving with the dolphins and showing us how to interact. To have a dolphin look you in the eye, swim with you in circles, come up close within centimeters, and every now and then allow you to touch them, is beyond my ability to translate. You will need to book a trip on the dolphin dream for the most amazing interaction with dolphins in their own environment. The boat rides great in rough weather, we had a storm one night with 60 mile an hour winds that I slept through and couldn't believe that we had been in a big storm. The food was great and we were all very well fed thanks to Gail. Connor and Travis were patient and gracious helping us in and out of the water, free diving down to get the dolphins attention, keeping the boat clean, and the fridge well stocked. I have been to all inclusive that do not even come close to comparison for the soul touching experience you will have being with dolphins every day and in our case three nights. I will be back next year, and will be trying to get all my friends to come along with me."
Lydia Kennedy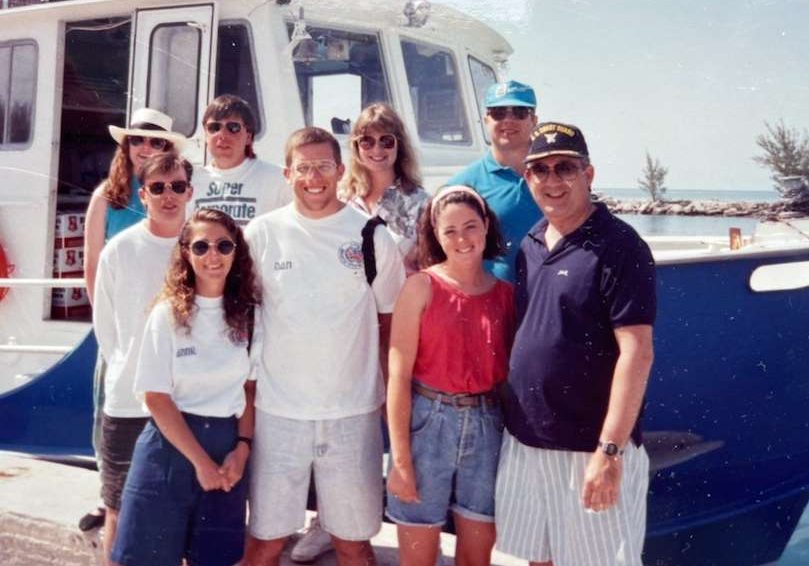 June 1992
"We've been on Dive Boats and Dolphin trips for years and this is by far the best boat out there! Captain Scott knows the area, is extraordinarily competent and the crew is very attentive. The boat is very stable, solid and comfortable; our home away from home. And the dolphins....wow. and wow again. photo ops everywhere! We'll be regulars!"
Ken and Jeanette Arnold, Kingston, WA, USA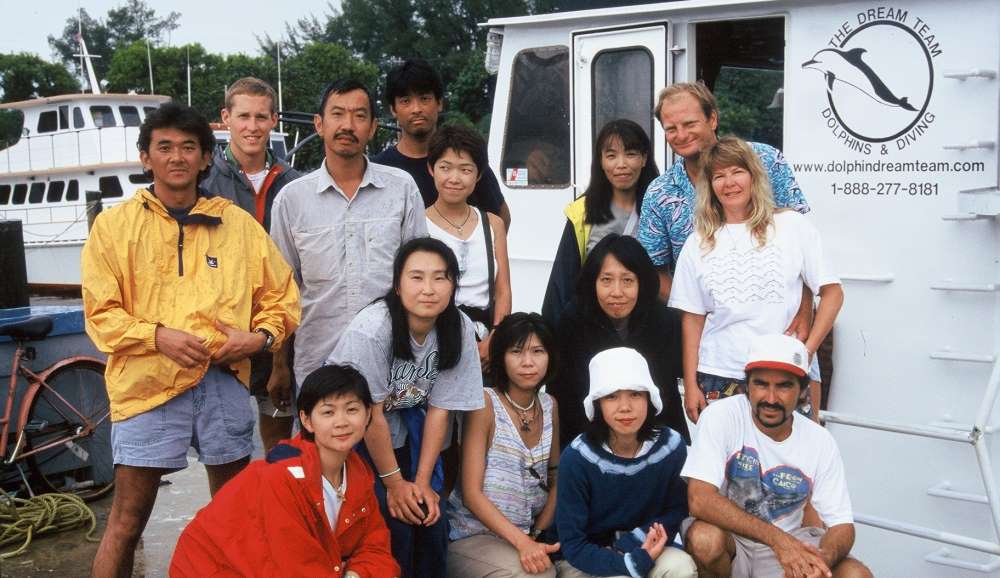 July 1989
"This is our first trip to the Bahamas & it is on our honeymoon. We've enjoyed the trip with you. We are very happy to have met the crew, the other guests & of course........the Dolphins!!! Thank you very much for your hospitality. We want to come here again!!"
Morifumi Miyazato & Ikumi Miyazato,Okinawa,JAPAN
The Dream Team Inc
Dolphin Dream Team
Riviera Beach, FL, USA
001 561 589 8642  voice, text or Whatsapp
All rights reserved ©2022 The Dream Team inc