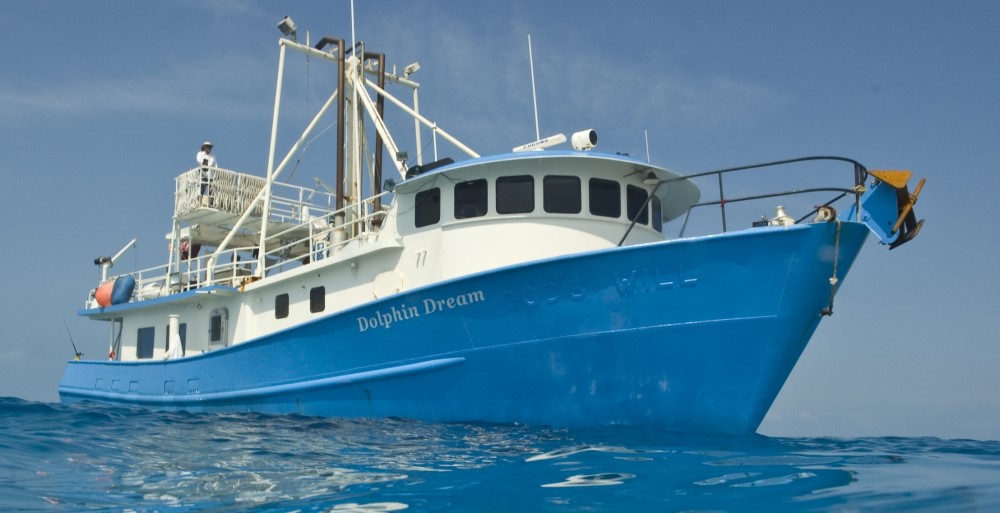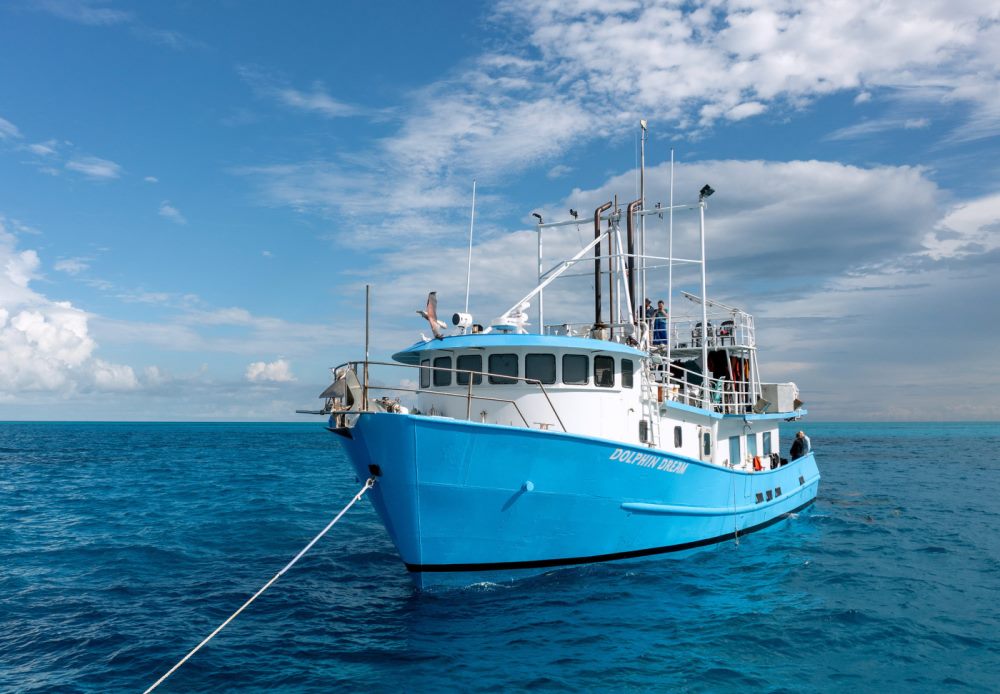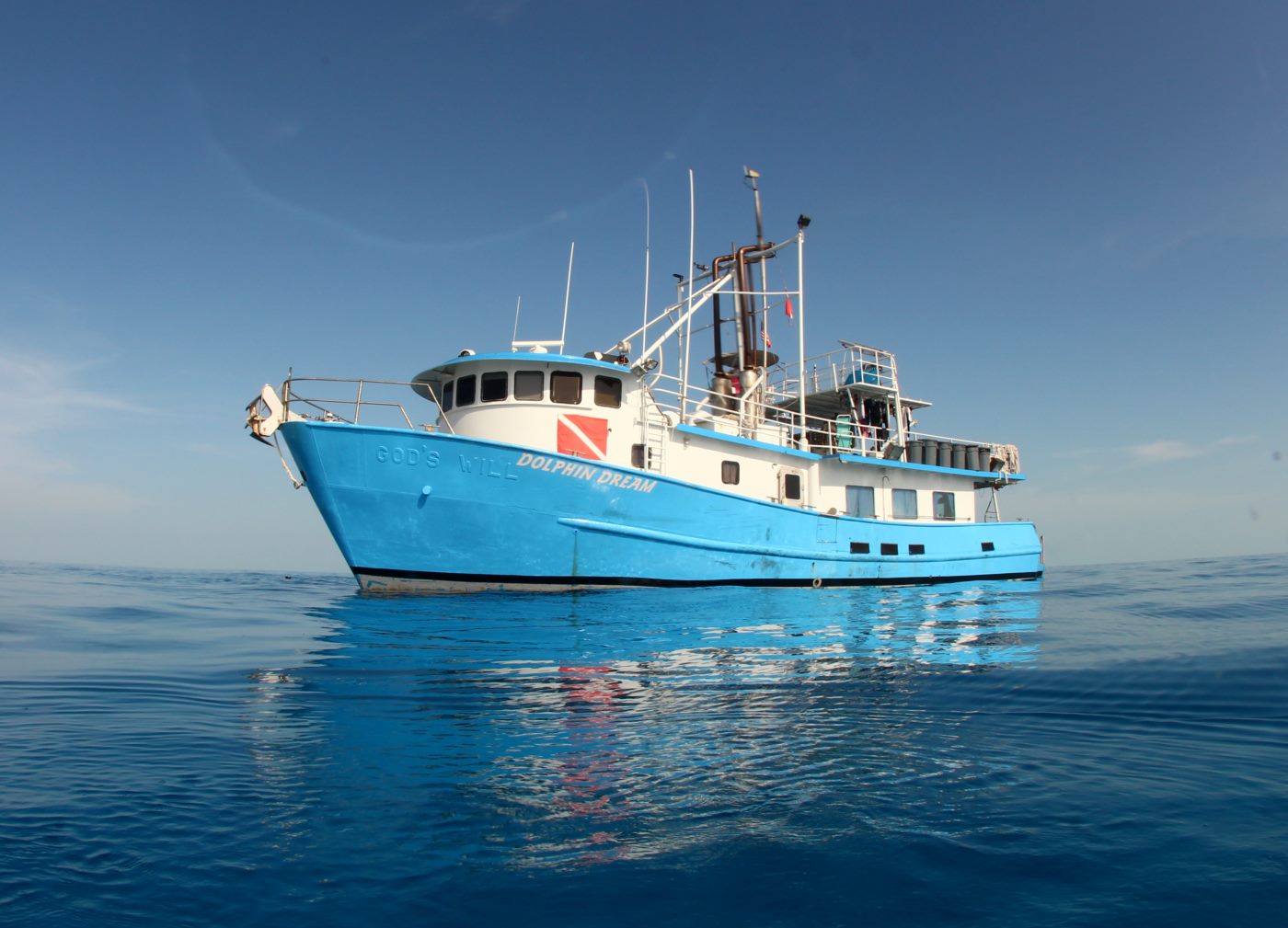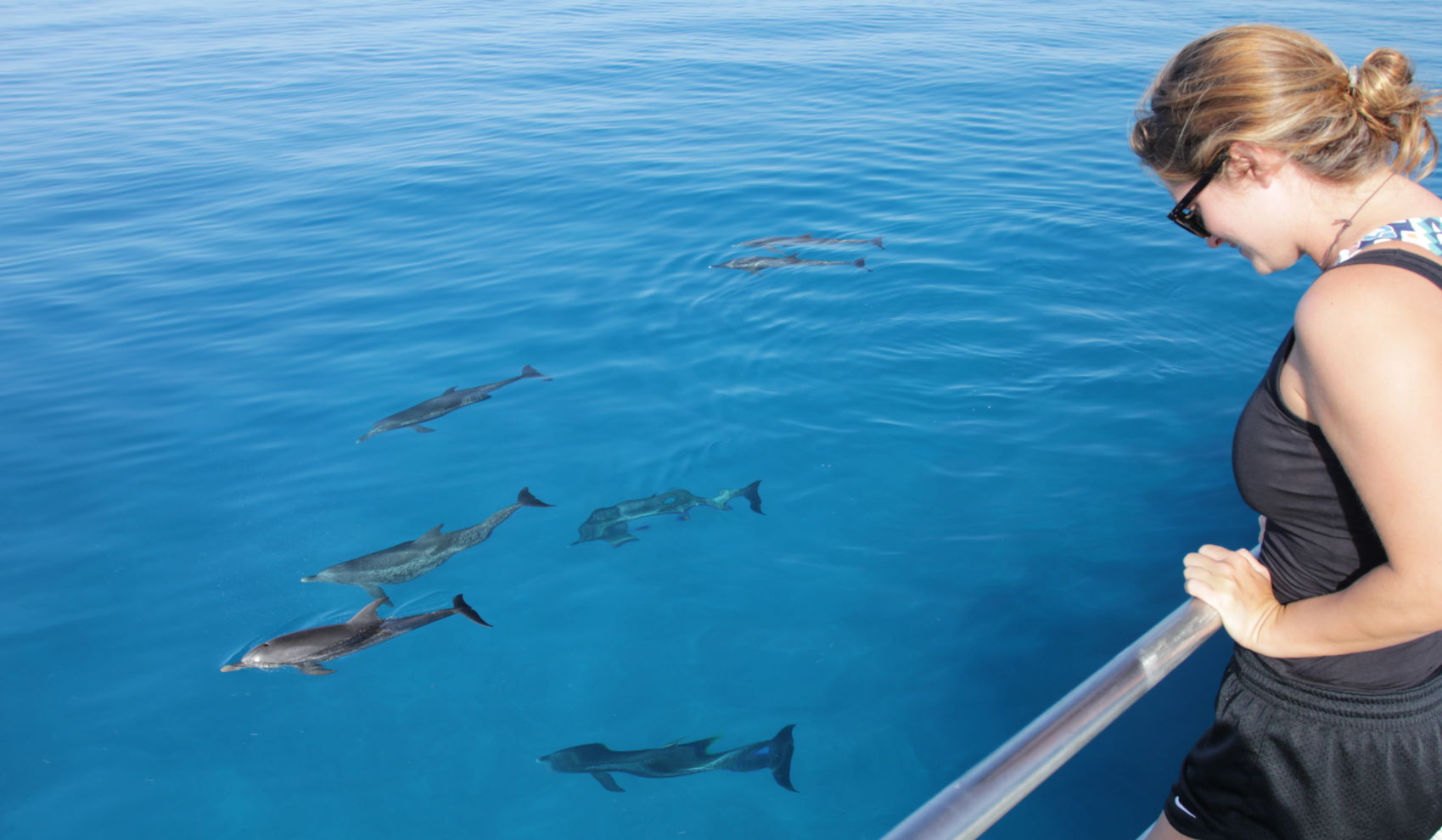 Ocean Expedition Liveaboard, Bahamas Snorkeling on the M/V Dolphin Dream and Team.
The Best .
The M/V Dolphin Dream
and Team is the premiere Bimini wild dolphin liveaboard, specializing in big animal encounters. She is an 86' x 26' ocean expedition trawler yacht, designed to ride the sea in comfort, safety and style. She rides better then even the bigger boats.
Dolphin Dream Team
Captain Scott has 40 years experience with scuba diving and snorkeling with dolphin in the same area of the Bahamas. No one knows the waters and dolphins as good. His Dolphin Dream Team is the most consistent, experienced and professional and fun team!
Best snorkeling and dolphins!
The "Dolphin Dream" is not a fleet boat, she is owner operated by Captain Scott, making a big difference in condition of boat and level of service. Captain Scott spends more time at sea on the boat than he does on land, making it truly his home. He always wants it to be clean, running good and have good food onboard! Captain Scott has 40 years experience in wild dolphin and snorkeling in the same area of the Bahamas. No one knows the waters and the animal as good.
The USA flag Bahamas liveaboard
vessel the "Dolphin Dream" is built and equipped well above any safety standards for the size vessel. She and her US crew are held to the highest USA standards, above and beyond many non-USA vessels. She has twin engines, twin generators, twin air compressors, fully air condition, safety chase boat, and all the other equipment to make your life on board comfortable and safe. She has been completely rebuilt from stem to stern and is in top notch condition and carries many spares to ensure no mechanical problems. All to provide you with the best shark diving.
There are five spacious cabins with full size upper and lower bunk beds and one large cabin with a double bed, for a maximum of 12 clients. The interior salon is located on the main deck making comfortable and safe from bad weather. The cabins are located aft of center line and down low, the most comfortable place in a boat. The salon has four benches and four chairs surrounding two tables for dining. The galley and salon are separated by a serving counter. There is a drink bar with a refrigerator, ice maker, coffee pots and a sink. There is room for cameras on shelves with electric and below the benches. There is a 27" TV, DVD, stereo, book and video library. Two spacious heads with showers, an outside shower and plenty of freshwater.
Life on a liveaboard dolphin trip.
is informal and relaxing, comfortable and clean. While enjoying your solitude, you will encounter a stress free atmosphere where dressing down is encouraged and world news is only in the back of your mind. The days are spent experiencing nature and our nights are spent anchored under the stars. We avoid the tourist traps unless requested.
Meals
All US food, drinks and supplies are onboard to make outstanding home-style cooking. Breakfast, lunch, and dinner are prepared fresh. Meals include meats, vegetarian options, starches, multiple vegetables, salads, and fresh fruits. While snacks including fruit, nuts, and sweets are always available. Just think... you're on vacation, you don't even have to do dishes. Refreshments such as ice water, juices, coffee, hot and cold tea, and lemonade are included. Notify us ahead of time and we can accommodate any special dietary needs. With all US food, supplies and fresh water.
Join us on board for the best dolphin encounters!